By John Kelso
Columnist
Austin American-Statesman
Oct. 4, 1983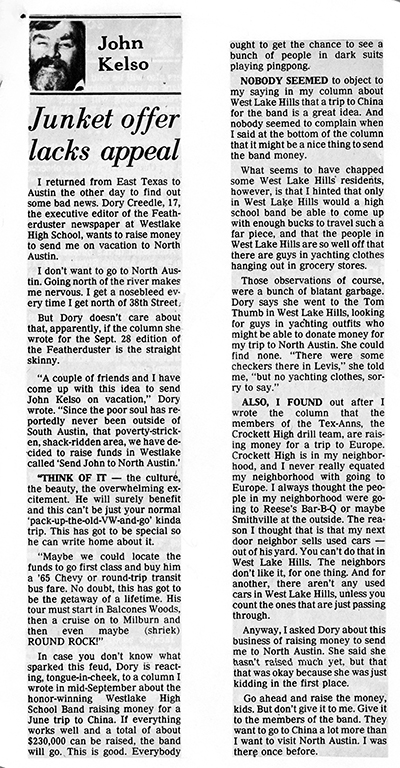 I returned from East Texas to Austin the other day to find out some bad news. Dory Creedle, 17, the executive editor of the Feath­erduster newspaper at Westlake High School, wants to raise money to send me on vacation to North Austin.
I don't want to go to North Aus­tin. Going north of the river makes me nervous. I get a nosebleed ev­ery time I get north of 38th Street.
But Dory doesn't care about that, apparently, if the column she­ wrote for the Sept. 28 edition of the Featherduster is the straight skinny.

"A couple of friends and I have come up with this idea to send John Kelso on vacation," Dory wrote. "Since the poor soul has re­portedly never been outside of South Austin, that poverty-strick­en, shack-ridden area, we have de­'Cided to raise funds in Westlake called 'Send John to North Austin.'

"THINK OF IT – the cultural the beauty, the overwhelming ex­citement. He will surely benefit and this can't be just your normal 'pack-up-the-old-VW-and-go' kinda trip. This has got to be special so he can write home about it.

"Maybe we could locate the funds to go first class and buy him a '65 Chevy or round-trip transit bus fare. No doubt, this has got to be the getaway of a lifetime. His tour must start in Balcones Woods, then a cruise on to Milburn and then even maybe (shriek) ROUND ROCK!"

In case you don't know what sparked this feud, Dory is react­ing, tongue-in-cheek, to a column I wrote in mid-September about the honor-winning Westlake High School Band raising money for a June trip to China. If everything works well and a total of about $230,000 can be raised, the band will go. This is good. Everybody ought to get the c ance o see a bunch of people in dark suits playing pingpong.
NOBODY SEEMED to object to my saying in my column about West Lake Hills that a trip to China for the band is a great idea. And nobody seemed to complain when I said at the bottom of the column that it might be a nice thing to send the band money.
What seems to have chapped some West Lake Hills residents, however, is that I hinted that only in West Lake Hills would a high school band be able to come up with enough bucks to travel such a far piece, and that the people in West Lake Hills are so well off that there are guys in yachting clothes hanging out in grocery stores.
Those observations of course, were a bunch of blatant garbage. Dory says she went to the Tom Thumb in West Lake Hills, looking for guys in yachting outfits who might be able to donate money for my trip to North Austin. She could find none. "There were some checkers there in Levis," she told me, "but no yachting clothes, sor­ry to say."
Al.SO, I FOUND out after I wrote the column that the members of the Tex-Anns, the Crockett High drill team, are rais­ing money for a trip to Europe. Crockett High is in my neighbor­hood, and I never really equated my neighborhood with going to Europe. I always thought the peo­ple in my neighborhood were go­ing to Reese's Bar B-Q or maybe Smithville at the outside. The rea­son I thought that is that my next door neighbor sells used cars — out of his yard. You can't do that in West Lake Hills. The neighbors don't like it, for one thing. And for another, there aren't any used cars in West Lake Hills, ui-less you count the ones that are just passing through.

Anyway, I asked Dory about this business of raising money to send me to North Austin. She said she hasn't raised much yet, but that that was okay because she was just kidding in the first place.

Go ahead and raise the money: kids. But don't give it to me. Give it to the members of the band. They want to go to China a lot more than I want to visit North Austin. I was there once before.